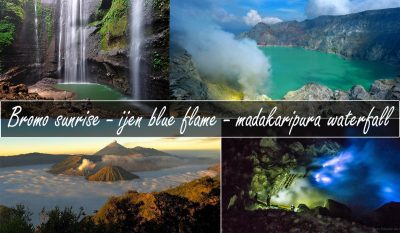 Mount Bromo ijen Madakaripura Waterfall Tour 4 Days is a most wanted combination trip of Mt Bromo Tour package 4 Days. This tour package start from Surabaya, Malang or possible from Banyuwangi and can also be from the airport, hotel or train station.
Ijen Crater Banyuwangi, Mt Bromo Tengger National Park and Madakaripura Waterfall are very popular nature tourism in East Java for many tourist domestic and foreign. if you want to enjoy the beautiful scenery of these three sights, you must depart from Surabaya, banyuwangi and malang in the morning.
The itinerary of Mt bromo ijen and madakaripura waterfall tour 4 days as follow :
Day 1 : Surabaya Airport/Hotel – hotel around Ijen area
9.30 AM pick up from Surbaya Airport/hotel and Heading to Hotel around Ijen area for 5 hours Driving.
03.00 PM arrived at hotel and chek-in
free program
Day 2 : Ijen Blue Flame Tour – Hotel Around Bromo Area
On the second day of the tour, you need to start the tour at 00:00 AM to go to Ijen Crater. This is the perfect time to spot the well-recognized Blue Fire.
You will reach the Paltuding entrance at 2:00 am. Right from that point, you will go on foot hiking Mount Ijen for about 3 Km with local guide who will take you to the location of Blue Fire at the bottom of Ijen Crater.
After enjoying the Blue Fire phenomenon, you can go back to the top of Ijen crater to see the night view of Ijen crater from above, where you can see the overall crater adorned by Blue Fire. And also you can enjoy the view of green acid lake, sulfuric crater dome with yellowish colour, local miners activity loading sulfur from the bottom of the crater.
06.00 AM : Finish take all the view pictures, comeback to paltuding or parking lot for 1,5 hours then comeback to your hotel to take shower and prepare for next trip.
Check out and continue to Hotel around Mount Bromo and it's takes 5 hour driving.
arrived at bromo area and chek-in hotel for stay overnight.
free program.
Day 3 : View Point at the Bromo Sunrise Hiking Spot – Bromo Tour – Madakaripura waterfall – hotel around Surabaya Aiport
The Sunrise Tour hike is started from the hotel you have checked in at 3:00 am. You will be picked up by a jeep which will take you all the way to the view point where you can enjoy the spectacular sunrise, Bromo Sunrise.
The top of the view point is the most beautiful spot as the view point to enjoy the sunrise. Right from that point, you will see panoramic view of mount Bromo perfectly. You can see the range of hills and fields under.
Of course, you can only have such a fascinating experience if the weather is friendly. After you have done enjoying the view of Bromo sunrise, you can go down to Bromo's sea of sand by Bromo jeep to the main destination, Mount Bromo.
From the parking area of Bromo jeep, you need to continue the trip on foot to the crater of Mount Bromo. In case you cannot make the walk, you can have an alternative by renting horse.
There are a lot of horses offered to take you around Bromo tourism resort. When you have had enough enjoying the view of Mount Bromo, you can go exploring the crater of Mount Bromo. You can go on to the savanna, Teletubies' hill, and the Whispering Sand.
At the end of your trip at Mount Bromo, the jeep will take you back to the hotel for breakfast, shower, and packing. As you finish packing your stuff, then you need to check out from the hotel and proceed to Madakaripura waterfall for 1 hour driving.
Get Madakaripura Watefall parking lot, take motorcycle for 10 minutes to trekking start location and do trekking for 30 minutes using slipper accompanied by local guide.
Get the waterfall centre, enjoy Madakaripura Waterfall around 1 – 2 hours or more, then comeback to your Van / Car through same route.
Reach Madakaripura Watefall parking lot again ,and continue to Hotel Around surabaya Airport for 3,5 hours driving.
chek-in hotel
free program
Day 4 :Hotel surabaya – surabaya airport
after breakfast leaving from hotel at 08:30 am and continue to surabaya airport by hotel transport service.
When you reach the airport That will be the end of mount bromo ijen madakaripura waterfall tour Package in 4D3N.
Facilities :
Private transport with AC, driver and fuel during the tour
3 Nights accommodation
Daily mineral water
Meals : 3 x Breakfast
Local guide for ijen crater
local guide for madakaripura waterfall
Private Jeep 4 WD for Mount Bromo Sunrise tour
savanna hill and whispering sand tour
Entrance ticket Fee for bromo, ijen crater and madakaripura waterfall
motorbike taxi for madakaripura waterfall
Excluded :
Horse riding at Mt. Bromo
Travel insurance and personal expense
All Lunch and dinner
detail information about tour package price, accommodation and booking requirements, you can contact us.
Mt Bromo ijen and madakaripura waterfall tour 4 days
You may also like :
Bromo and ijen tour in 2D1N from Bali, surabaya or banyuwangi
bromo and madakaripura waterfall tour in 2D1N
Bromo sunrise and coban sewu waterfall 3D2N package
Bromo sunrise and ijen blue flame tour 3D2N package (most wanted)
Bromo milkyway by camping and ijen blue flame tour 3D2N
Bromo sunrise, ijen blue flame and paragliding tour 4D3N
Bromo sunrise ijen blue flame and rafting 3D2N
Bromo Sunrise, ijen blue flame and Sukamade turtle Beach 4D3N
Bromo milkyway tour for fotography 2D1N package tour
Bromo milkyway by camping tour 2D1N 
Bromo midnight tour 1D from surabaya or malang
Bromo and semeru hiking tour in 4D3N
Semeru hiking tour in 3D2N
Contact Us
If you have any questions, please contact us.