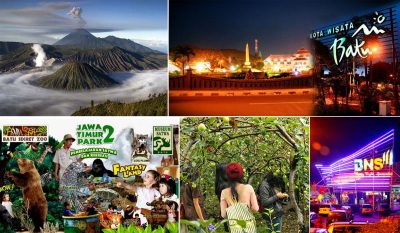 Bromo Malang Batu Tour package is one of Bromo Tour Package which combines the tour to Mount Bromo tourism resort and the tourism objects in Batu Malang, which include Apple-picking Tour, Jarim Park 2 Batu (Batu Secret Zoo, the Museum of Wildlife, and Eco Green Park), BNS, Coban Rondo Waterfall, and the Museum of Transportation. Bromo Malang Batu Tour package is 3 days and 2 nights long and is very popular among tourists, particularly from Indonesia during school holidays. This is due to the fact that the program Bromo Malang Batu Tour package tends to offer family vacation, entertainment, games, and education. In addition, this Tour package is also perfect for vacation package after school holidays of elementary school, junior high school, and senior high school. If you are at all interested, hereunder are the details of the Tour package covering Bromo, Malang, and Batu.
Bromo Malang Batu Tour Package in 3 Days and 2 Nights
Day 1: Surabaya – Mount Bromo Tour Resort
On the first day of the tour, you will be picked up in Surabaya or Malang, as what you can get in any other Bromo Tour Packages.
You may ask to be picked up at hotel, bus station, train station, or airport.
After that, you will be taken to Cemoro Lawang in the area of Mount Bromo Tourism Resort in order to check in a hotel.
Day 2: Bromo Sunrise Tour – Malang Batu Tour – the Museum of Transportation – BNS
On the second day, the tour starts at 3:30 am. You will be taken to see the sunrise of Bromo by 4wd jeep at the peak of view point.
The peak of view point is the most beautiful place to see Bromo Sunrise. From that particular point, you will see the natural phenomenon of Mount Bromo tourism resort perfectly since you can spot the overall range of hills and the beauty posed by the sky.
As you finish enjoying the fabulous view over there, come back to jeep and proceed to the sea of sand in Bromo. From the jeep parking area, the tour will go on by foot all the way to the crater of Mount Bromo.
Well, as always, if you think that you cannot make the walk, then you can simply rent a horse. There are a lot of horses offered for rent.
After you have enjoyed exploring the crater of Mount Bromo, you will then go to savanna Hill and the Whispering Sand. When everything is done, Bromo jeep will take you to hotel for breakfast, shower, and packing.
Right at 10:00 am, the tour will continue to Malang Batu City.
15.00 arrive in batu city and continue visiting the Museum of Transportation (museum Angkut).
After you are satisfied to see the collection of transportation, then checked in the hotel around batu city.
19.00 After having Dinner at the hotel, the tour continues to BNS, which stands for Batu Night Spectacular.
Right at the resort, you can enjoy a lot of games and fantastic view of Garden Lantern. After you finish the visit at Batu Night Spectacular, you can come back to the hotel.
Day 3: Apple-picking Tour –Jatim Park 2 – Surabaya or Malang
The third day is the finale of the Tour package. As what you can get in any other Bromo Tour Packages, after you have breakfast at the hotel,  at 08.00 am you can check out from the hotel and leave for Agro Tour of Apple picking where you can pick apple right from the garden.
Then, the tour will continue to Jaitmpark 2 Secret Zoo.
Afterward, you will visit the market of souvenirs in Batu. When you have finished shopping, you will be taken back to Surabaya or Malang. That will be the end of your Bromo malang batu Tour.
The Facilities included in the tour package :
Private transport with AC, driver and fuel during the tour
Daily mineral water
2 Nights accommodation
Meals : 2 x Breakfast
Private Jeep 4 WD for Mount Bromo Sunrise tour
Entrance ticket according to the itinerary
What are not included in ?
Travel insurance and personal expense
savannah hill and whisphering sand bromo
All Lunch and dinner
English speaking tour guide who will accompany during the tour
Horse rent at Bromo Resort
Contact Us
If you have any questions, please contact us.