Bromo Milky Way by Camping and Blue Flame Ijen Crater Tour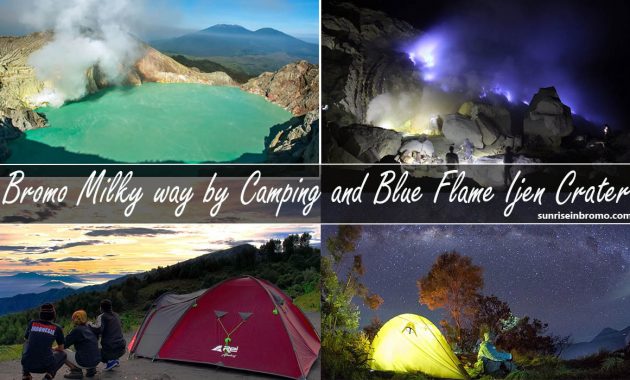 package is offered for those you love to enjoy natural view by camping in Mount Bromo. This tour takes 3 days and 2 nights. A lot of photographer from all over the world have already taken this package. If you have your heart set on taking this tour package, try to get to Surabaya in the morning, around 8 or 9 AM. Therefore, you will still have time to take a rest for a while. The hotel has been prepared for you. And the tour will start in the midnight. It is just like Bromo Midnight Tour Package.
Do you have holiday in Bali? If you do, it is better for you to select Ijen Crater Tour first. It is due to the fact that Ijen Crater is near from Bali. The tour starts at midnight as well. Therefore, you enjoy Bali first. Here is detail information about Bromo Milky Way by Camping and Blue Flame Ijen Crater Tour package.
Bromo Milky Way by Camping and Blue Flame ijen crater Tour 3 Days
Day 1: Surabaya – Camping in Mount Bromo For Milky Way and Sunrise Holiday
We will pick you up at Surabaya Airport. Or if you have been in Surabaya and stayed in a hotel, we will pick you up right there. Then, we will take you to parking lot in Bromo National Park. It takes about three and a half hours by car. The tour is continued by riding Jeep 4 WD. You will be taken to the place where you will stay one night there. You shouldn't worry since accommodation is prepared like tent, snacks, hot tea or coffee, It must be cold there. So, there will be bonfire to warm up the body at night.
Day 2: Bromo Milky Way – Bromo Sunrise Tour – Hotel in Ijen Crater
You need to wake up at midnight because you shouldn't miss the opportunity to see Milky Way. Make sure that your camera battery is full. Sometimes, it is hard to find the Milky Way appearance but our tour guide has experience about that. So, you will be guided to see the appearance. You only need to prepare your best camera to take picture of Milky Way. Enjoy the beautiful view till sunrise at around 05.20 AM.
When the sun rises, you don't only see the beautiful view of sunrise, but also amazing Sea of Sand and Mount Batok Semeru Volcano as the highest mount in Java. However, you should continue the tour at 6.30 AM since you have to go to Mount Bromo Crater. It only takes about 25 minutes by Jeep. However, you can go to crater by Jeep. Jeep has to be parked in Sea of Sand then you need to do trekking about 30 minutes to reach crater. If you feel like there is no energy to trekking, you can ride horse instead. By riding a horse, you will get the crater in 15 minutes.
When you have finished enjoying crater, we will take you to the hotel in order that you have breakfast. Then, you can get shower and check out. You need to do it since you have to continue traveling about 6 hours to go to Ijen Crater. Possibly, you will arrive there at night. The hotel will be prepared over there.
Day 3 : Blue Flame Ijen Crater Holiday – Surabaya Airport / Hotel
Leaving from Hotel at 00.00 AM. We will provide a van. To get there, it needs about 2 hours driving.
We have to go there at 02.00 AM and park the van in the provided parking lot. Then, we continue touring by trekking for about one and a half hour.
We will get to the top of Ijen Crater at 03.30 AM. Then, Local guide will lead you to get down to bottom of the crater for 40 minutes. Over there, you will be able to enjoy Blue Fire Ijen Crater. At 05.30 AM, we need to come back. It is the end of Blue Flame Crater appearance.
You will have time to enjoy Ijen Volcano Crater view at the top. However, you have to return to hotel to have breakfast. Then, you can have shower and take a rest. You will be ready to check out at 11.00 AM
Further Information
When you take this tour package, you have to know that it starts camping in Bromo Milky Way when you arrive in Surabaya at morning. However, it is not possible for you to arrive at morning, you need to stay one night since you only can take Bromo Midnight tour if you would like to enjoy Milky Way.
If your flight to your country is in the afternoon, it would be better if you just stay in a hotel in Surabaya after Ijen Crater Tour.
Please contact us for more detail information about Mount Bromo Sunrise Tour Package including price and services that you will get.
Facilities :
Private transportation during the tour
Transportation fuel, travel tax and parking fee
Private Jeep 4 WD for bromo tour
Daily Mineral water
2x breakfast
Entrance ticket Fee for bromo and ijen
Local guide and gas mask for Ijen blue flame tour
1 Night Camping for Milky Way tour at bromo
Camping facility (tent, sleeping bag, hot tea or coffee drinking, bonfire to warm body, dinner at camp area)
1 night Accommodation at Ijen
Excluded :
All Lunch and dinner
Personal expense and travel insurance
Horse rent at bromo
Click here for price info and booking
You may also like :
Enjoy the milkyway or stargazing in mount bromo
Bromo milkyway by camping tour 2D1N
Bromo sunrise and coban sewu waterfall 3D2N package
Bromo milkyway tour for fotography 2D1N package tour
Bromo midnight tour 1D from surabaya or malang
Bromo and ijen tour in 2D1N from Bali, surabaya or banyuwangi
bromo and madakaripura waterfall tour in 2D1N
Bromo sunrise, ijen blue flame and madakaripura waterfall tour 4D3N package tour
Bromo sunrise, ijen blue flame and paragliding tour 4D3N
Bromo sunrise ijen blue flame and rafting 3D2N
Bromo Sunrise, ijen blue flame and Sukamade turtle Beach 4D3N
Semeru hiking tour in 3D2N
Bromo and semeru hiking tour in 4D3N
Bromo milkyway by camping and ijen 3D2N
Bromo sunrise and ijen blue flame tour 3D2N package (most wanted)
Contact Us
If you have any questions, please contact us.