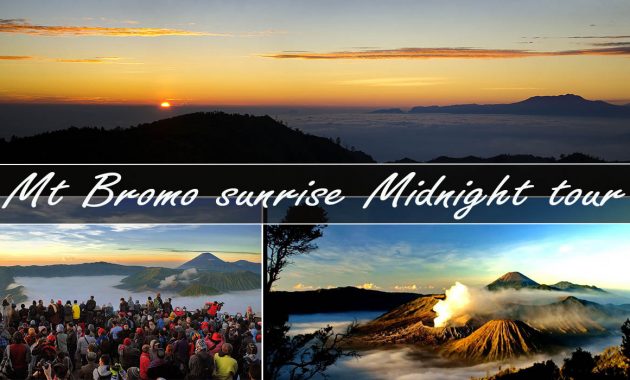 Mt Bromo Midnight Tour is one of the most interesting Bromo Tour Packages to Bromo tourism resort without staying overnight. Bromo sunrise Tour can be started from Surabaya and Malang. Then you will leave for Mount Bromo at midnight. You will first head to Cemoro Lawang. This particular tour package is devoted to those who do not have much time to make the trip to Mount Bromo and want to save their money without sacrificing the passion to enjoy the natural beauty of Mount Bromo. Bromo sunrise Midnight tour also includes the expense on Bromo Jeep which will take you to four different locations situated in Bromo. These destinations are Hiking view point, where you can see the sunrise of Bromo, Mount Bromo, Savanna hill, and Whispering sand.
"Mt Bromo Midnight Tour is one of the most interesting Bromo Tour Packages to Bromo tourism resort without staying overnight"
Over there, you will be rejoiced by the spectacular view posed by the overlay of greeneries which are so vast, fresh, and fertile-looking. This is a common view that you can encounter only in Bromo Tour Package. After that, you will be guided to head to the area known as Whispering Sand, where the tour will actually end. At the last spot, you can hear how the sand laid there gets tapped by the wind. You will hear that the sand is somewhat hissing, like a snake, which is why the spot is named so. At the end of the tour, you will head to restaurant around Bromo for your breakfast. Finally, you are on your way back to Surabaya or Malang.
What follows is the details of Mt Bromo Midnight Tour
At 11:45 pm, you will be picked up from your hotel, train station, or any point in Surabaya or Malang to Cemoro Lawang in Probolinggo. The ride will take about 3.5 hours.
At 3:00 am when you have reached Cemoro Lawang, then go on by Jeep to the first view point in order to see the sunrise of Bromo. The top of view point is the most fantastic place to view the sunrise of Bromo. From that point, you can see the panorama of Mount Bromo tourism resort perfectly.
Then at 06:00 am, after you finish enjoying the fabulous view of Bromo sunrise, the tour will proceed to Mount Bromo by crossing the sand sea by Bromo Jeep. The jeep will take you to the parking area near the sand sea of Bromo. You can spend some time over there before you go on the next part of the tour.
At 8:00 am, you need to go back to the parking area and then continue the tour to savanna hill and the Whispering Sand. As you finish enjoying your time there, the jeep will take you back to Cemoro Lawang for breakfast at restaurant.
 Finally, at 12:00 am, you will be taken to your arrival point, be it in Surabaya or Malang. It is estimated that you will reach the point in the afternoon, specifically at 3:00 pm. That is the end of Bromo sunrise Midnight Tour Package.
Facilities :
Private transport with ac, driver and fuel during the tour
Entrance ticket fee to the Bromo National Park
Daily mineral water
private Jeep rent for Mount Bromo Tour
Breakfast at hotel restaurant around Bromo area
Airport transfer in and out
Exclude :
savannah hill and whispering sand bromo
Horse riding at Mt. Bromo
Personal expenses and insurance
Note :
if you have more time after Bromo sunrise Tour, You can proceed with visit the most well known Waterfall in East Java named "Madakaripura Waterfall" for 1 hour driving. Madakaripura Waterfall situated in Lumbang subdistrict and still close from Mount Bromo. For more complete information about the price of bromo midnight tour packages please contact us.
Mt Bromo midnight tour
You may also like :
Bromo ijen 2D1N from surabaya or malang
Bromo and Madakaripura waterfall tour 2D1N
Bromo sunrise and coban sewu waterfall 3D2N package
Bromo milkyway by camping tour 2D1N
Bromo milkyway tour for fotography 2D1N package tour
Bromo milkyway by camping and ijen blue flame tour 3D2N
Bromo and ijen tour 3D2N from surabaya, malang, banyuwangi or Bali (most wanted)
Bromo sunrise, ijen blue flame and madakaripura waterfall tour 4D3N package tour
Bromo sunrise, ijen blue flame and paragliding tour 4D3N
Bromo sunrise ijen blue flame and rafting 3D2N
Bromo Sunrise, ijen blue flame and Sukamade turtle Beach 4D3N
Contact Us
If you have any questions, please contact us.