Mount Bromo rafting and ijen crater package tour 3 days, as the name suggests, consists of 3-days adventure to three phenomenal destinations in East Java, meaning that you will go through three whole nights during the tour. You can start the tour from Surabaya airport, Malang, or Banyuwangi harbour, which is Ketapang. This is our special tour package which is devoted to domestic and international tourists who have the passion in exploring various breathtaking landscapes in the island of Java, Indonesia, which are Mount Bromo Ijen Crater and rafting.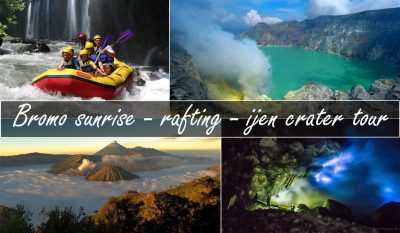 Another interesting point about this tour package is that it denotes the combination of three fabulous destinations in East Java. which offer special experience in enjoying the natural pristine of Mount Bromo, particularly offering the majestic sunrise and the vast savanna. You can also explore the popular Sea of Sand in Bromo, Bromo Crater, and Whispering Sand. If you are someone who fancies water adventure, then Songa Rafting is just the perfect choice to have. Songa Rafting posses omnifarious enchanting sceneries along the Pekalen river.
The last destination, yet not the least, is Ijen Crater. To some extent, it is similar to Mount Bromo in that you will go trekking and hiking. However, one thing that separates Ijen among the others is the fabulous Blue Fire. This destination is situated in the regency of Banyuwangi. If you are at all interested in taking the tour, then here are some details that you need to note.
Day 1: Surabaya, Malang, or Yogyakarta-Hotel in Bromo
Right on the first day, you will get picked up by private car with air conditioner. The car will take you to the hotel. The first ride will take approximately 3.5 hours driving.
When you have reached the hotel, you can stay overnight before you continue the trip.
Day 2: Mount Bromo-Songa Rafting
In the morning, at 2:30 AM, you need to wake up for preparing your trek starting at 3:00 AM.
You will be picked up by a 4WD Jeep at your hotel, which will take you to Mount Pananjakan or the highest view point in Mount Bromo area. where you can enjoy breathtaking sceneries around Mount Bromo in the morning and, of course, don't miss the Milky Way.
From 3:30 AM to 6:30 AM, you need to be on the jeep which will head to the parking area close to the other view point to wait for Bromo Sunrise. The view at the top is extremely stunning as you can see the vastness of Mount Bromo posing fabulous aerial views and ranges of fields. When you are done, you can go back to the jeep and continue to the trip to the Sea of Sand.
At 7:30 AM, you will reach the Sea of Sand and then start trekking to Bromo Crater for about half an hour, or you can take the horse ride, which needs only 20 minutes.
After you visit Bromo crater, you can enjoy your time at Savanna and Whispering Sand from 08:00 AM to 09:00 AM. It will need 15-minute ride by jeep to reach these areas.
When you have finished exploring Mount Bromo, you can then get back to the Jeep which will take you to your hotel to have breakfast, take shower and preparing to check out and continue your trip to Songa Rafting for 2 hours driving.
Reaching the songa rafting basecamp, you will be given 20 minutes to have initial instruction by a local guide on rafting in the river. After going through with the instruction, you can put on the provided rafting clothes and helmet and grab the paddles to start rafting in Pekalen river for about 30 minutes. There will be a guide coming along the way with you.
The amount of time you will have for rafting the river is about three to four hours. The rice field area down the river is the finish line before you get back to Songa Basecamp.
When you reach Songa Basecamp, you can change your clothes and enjoy the meals at basecamp restaurant, before you continue the trip to Ijen Crater which takes about 4,5 hours driving.
Day 3: Ijen Crater Tour-Blue Fire Trekking-Finish the Tour in Surabaya
 you need to start the tour at 01:00 am to go to Ijen Crater (breakfast in box for takeaway). This is the perfect time to spot the well-recognized Blue Flame/ blue fire.
At 2:00 AM it is estimated that you will reach the parking lot close to the crater. From that spot, you can then start trekking to the peak of Mount Ijen by being guided by a tour guide.
Afterward, you will reach the top at 3:30 AM and then you can continue trekking down all the way to the bottom of the crater for about 40 minutes. When you have reached the bottom of the crater, you can encounter the breathtaking Blue Fire phenomenon. Make sure that you get back to the top at 5:00 AM to catch the next part of the tour.
After you reach the top, probably at around 5:40 AM, you can enjoy the view of Ijen Crater before you get back to Paltuding, which is the entrance to the crater. The trek back to the entrance will take about 1.5 hour before you finally can reach the hotel to take a shower and have some brief rest before you check out.
Afterward, you can continue to the trip to Surabaya, Malang, or Yogyakarta. You can also ask to be taken to Banyuwangi, if you want.
Facilities of Bromo rafting and ijen crater tour :
Private transport with AC, driver and fuel during the tour
2 Nights accommodation
Daily mineral water
Meals : 2 x Breakfast at hotel
Local guide for ijen crater
Private Jeep 4 WD for Mount Bromo Sunrise tour
Entrance ticket Fee for bromo, afting and ijen
Rafting facilities (rubber boat, Rafting rescue, paddles, helmet, float jacket, water proof pack, mineral drinking)
lunch in Songa Basecamp, traditional meals and warm drinking.
exclude :
Horse rent at bromo
Travel insurance and personal expense
Lunch and dinner
If you want to get detail information about tour package price, accommodation and booking requirements, you can contact us here.
Mount Bromo rafting ijen crater tour 3 days package
You may also like :
Mt Bromo ijen blue flame and tumpak sewu waterfall tour 4D3N package
Mt Bromo, ijen blue flame and Malang Batu city tour 5D4N package
Bromo sunrise, ijen blue flame and paragliding tour 4D3N
Bromo sunrise, ijen blue flame and madakaripura waterfall tour 4D3N package tour
Bromo Sunrise, ijen blue flame and Sukamade turtle Beach 4D3N
Bromo midnight tour 1D from surabaya or malang
bromo and madakaripura waterfall tour in 2D1N
Bromo milkyway tour for fotography 2D1N package tour
Bromo milkyway by camping and ijen blue flame tour 3D2N
Bromo milkyway by camping tour 2D1N 
Bromo and ijen tour in 2D1N from Bali, surabaya or banyuwangi
Bromo sunrise and ijen blue flame tour 3D2N package (most wanted)
Bromo malang tour 3D2N 
Bromo and semeru hiking tour in 4D3N
Semeru hiking tour in 3D2N
Contact Us
If you have any questions, please contact us.