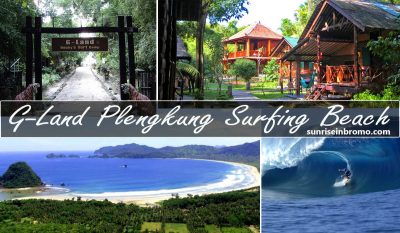 Tourists consider G-land Plengkung Surfing as the best beach for surfing in Banyuwangi. When you arrive there, you will see G-Land. The word G means Grajagan. It is the name of bay in which you will see huge waves. It is wonderful bay since there is tropical forest surrounding.
In Indonesia, Plengkung Beach is called Pantai Plengkung. Since it has great waves, it has epithet as The Seven Giant Waves Wonder. The word seven is used since the wave in this beach forms seven big roles. The height is around 6 meters. Even, some people said that it is the second best wave in the world after Hawai.
G-Land Plenkung Surfing beach in Banyuwangi
When you are so interested in visiting this beach, you have to arrange the schedule. You have to make sure that you visit this beach between July and September. It is regarded as the best time to visit Plengkung surfing beach since it has great wave. You can contact us for more information about Surfing Tour Package. With this package, you will get anything you need during enjoying this beach, not to mention transportation.
Accommodation
There are a lot of option in terms of places to stay. There are luxury hotels till simple cottage. You will be free to choose. The best is that you stay in the hotel which is near to the beach. So, you will be able to go surfing almost anytime. However, if you don't like to go surfing, you can enjoy your time in tourist resort. Possibly, you can be in the coast which is so quite. By seeing beautiful and natural view of forest, your stress will be away. You can do something challenging as well. Please do trekking into the forest. You will find waterfall inside it.
Try to go to Banyuwangi Ketapang Harbour since it is near from Plengkung Beach. You only need to go by ferry about 2 hours from this harbour. If you are having holiday in Bali, you can use private tour car from travel agency in Bali. Or, you can take public transportation like bus as well.
This beach is situated in south cost of Banyuwangi. Plengkung is also named with G-Land Beach. Usually, tourists come to this beach when they also want to enjoy Ijen Crater. Over there, they will see Blue Flame Ijen Volcano. Actually, there is not only G-Land Beach that you can visit. There is also another wonderful beach called Sukamade Beach. In this beach, you will see turtles coming out from the set when the night comes. You can take Sukamade Beach Tour Package. It takes 2 days and 1 night. When you really want to have great experience visiting Banyuwangi, it is good for you to combine Plengkung Surfing Tour with Blue Flame Ijen and also Sukamade Tour. If it is possible, you can also take Bromo ijen Tour Package. For more details about package and service, you can contact us.
You may also like :
Bromo and Papuma beach tour 3 days 2 nights
Bromo and ijen tour in 2D1N from Bali, surabaya or banyuwangi
Bromo sunrise and ijen blue flame tour 3D2N package (most wanted)
Bromo Sunrise, ijen blue flame and Sukamade turtle Beach 4D3N
Bromo sunrise ijen blue flame and rafting 3D2N
Bromo sunrise, ijen blue flame and madakaripura waterfall tour 4D3N package tour
Bromo sunrise, ijen blue flame and paragliding tour 4D3N
Bromo milkyway by camping and ijen blue flame tour 3D2N
Bromo milkyway by camping tour 2D1N
Bromo milkyway tour for fotography 2D1N package tour
bromo and madakaripura waterfall tour in 2D1N
Bromo sunrise and coban sewu waterfall 3D2N package
Contact Us
If you have any questions, please contact us.