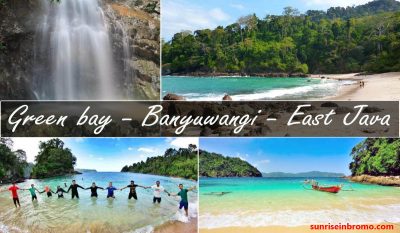 Green Bay Beach Banyuwangi East Java. Teluk Hijau Beach is more popular with the name "Green Bay Beach". Located in Sarongan Village, Banyuwangi, it becomes a part of Meru National Park Betiri. It is a hidden paradise since this beach is totally still natural. It is so quite over there. It has fine white sand with clear sea water. It becomes the reason why a lot of tourists like to visit this beach recently.
[irp posts="245″ name="Surabaya/Malang- Bromo ijen sukamade turtle beach tour – ketapang"]
It is not only local but also foreign tourists who prefer visiting this beach. Usually, it is such a primary plan to visit Green Bay Beach Banyuwangi when they have holiday in East Java. Before going to the beach, they will see a heaven from the distance of the hill since they can see incredible Green Bay. They will feel like in a heaven when they arrive at the shore.
To get into the beach, you will not find any difficulty. The way to go there is so easy. You only need to go through the path which is little bit steep and rocky. You will go down the hill and pass through the forest with big trees over there. Suddenly, you will so beautiful beach with nice white sand.
[irp]
The Best Way To Go To Green Bay Beach Banyuwangi
It is not quite difficult to find this beach. The only thing that you need to do is driving to Rajegwesi. You can use your own car or motorcycle. Or, you can rent the car since there are rental car services there. Try to find the way to Teluk Hijau Beach when you have already arrived at Rajegwesi.
This beach is situated in Pesanggaran Sarongan District. It is actually the name of village. It is quite far away from the central city of Banyuwangi. It is about 90 km. It is much further from Jember, about 105 km. However, when you start from Banyuwangi or Jember, you only need to follow the route to Sukamade Coast at Merubetiri National Park. It is the same way into Green Bay Beach. If you don't want to drive so far, you can start from Banyuwangi Harbor. It is strongly recommended to take tour package provided by Banyuwangi Travel Agency if you are not familiar with this area. You can stay in Surabaya City then try to find the nearest tour and travel service in order that they can organize your tour into Green Bay Beach.
In fact, it is not only Green Bay Beach that you can visit. You can spare your time to take volcano tour like Ijen Crater. You will be able to be a witness to see beautiful Blue Flame Ijen Volcano at night. Further, you can do trekking to Ijen Crater.
For more information about Pantai Teluk Hijau and Mount Bromo Tour Package, you can contact us. You will offer you the best price with the best facility in order that you have wonderful experience during having holiday in Banyuwangi, East Java.
Green Bay Beach banyuwangi East Java
[irp posts="596″ name="Blawan Waterfall from ijen crater in Bondowoso"]
Contact Us
If you have any questions, please contact us.