Almost every night, Milky Way appears. Exactly, you can see the beautiful view of mount Bromo Milky Way from 07.00 PM till 04.30 AM. However, sometimes it doesn't show up when the sky is foggy. Therefore, a lot of photographers decide to stay here in Mount Bromo for about 3 until 4 days to make sure that they get great photos of the Milky Way. Besides, they feel like home since the local people are so friendly with tourists like them. In addition, the temperature is not as cold as in Mount Semeru. Mount Bromo is 2,329 meters above sea level. Meanwhile, Semeru is 3,676 meters above sea level that makes it the highest volcano in Java. This height of Mount Bromo doesn't make temperature so low. It is only about 5 till 10 degrees centigrade at night and 18-21 degrees centigrade at noon. Since the weather is not so cold and there Milky Way there, a lot of tourists especially photographers are so glad to visit here.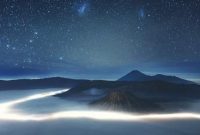 Here are some recommended spots to enjoying mount Bromo milky way :
Mentigen Hill
It is situated in the high peak at the northern side of Lava View Lodge. Its height is about 2,200 meters above sea level. Many photographers usually use this place to camp since it has wide grown over there. Besides, there is huge grass but there is no tree. So, vision is free from any interference.
Mount Pananjakan
This is the other favorite spot to capture Milky Way. It is due to the height. It is 2,770 meters high above sea level. It is considered the highest spot to shoot Milky Way. Even though there is not a wide space to camp, this place has a lot of facilities like food and beverage. Therefore, you can wait for Milky Way while enjoying drinking hot tea or coffee.
Kingkong Hill
Like the previous peak, this peak has a stall that sells food and drink. This hill is 2,700 meters above sea level. It is only about 400 meters before Mount Pananjakan. You can take a picture of the Milky Way in this spot.
Love Hill
Near Kingkong Hill, exactly below it, you can find Love Hill. It is one of the most favorite spots to capture the Milky Way since it has wide space with no tree hindrance. However, you have to go trekking up from the parking lot to reach this hill. You should be careful because the path is quite steep. It takes 15 minutes to get to the top of the hill.
What Time Can You Enjoy Milky Way in Mount Bromo?
Milky Way is like stars in the sky which get together forming volume like dust or gas in the galactic plane. This beautiful view can only be seen from 7 pm to 4 am. With one condition, the sky has to be clear. No fog. Therefore, the best time to go to Mount Bromo to see Milky Way is during the dry season.
Those who want to see this phenomenon are photographers. Now, they are not coming from Indonesia, but also from other countries. It seems that almost all photographers in the world don't want to miss the opportunity to capture the beautiful phenomenon of the Milky Way in Mount Bromo.
How Can You Enjoy Milky Way in Mount Bromo?
Since Milky Way appears from 7 pm till 4.30 am, you have to stay in a hotel first. Then, you can to Bromo at midnight by Jeep. Just try to pick the spot that you are interested in. Pick the spot and wait for Milky Way. While waiting for the Milky Way appearance, it is better for you to prepare your camera and tripod. After taking picture of the Milky Way, you need to wait again. It is time to wait for sunrise at 5.20 AM. At that time, you can capture the sunrise with amazing views of Mount Bromo, Mount Batok, Bromo Crater, and also the Sea of Sand.
Like what has been explained before, you can find many different places to enjoy Milky Way. Each spot or hill will give you different experiences and points of view where you can capture the Milky Way. When you can take a picture from a different hill, possibly you have to spend more than 2 days there. It is because of the place of each hill. They are far apart. If you really want to enjoy Milky Way from a different point of view, you should stay in Bromo for at least 3 days and 3 nights.
Information About Milky Way in Mount Bromo, East Java
We offer Mount Bromo Milky Way Tour Package. Photographers like to take this package to make sure that they are able to capture Milky Way. Usually, they arrive in Surabaya Airport. Tourists from Asia and also other countries usually take a long trip from Surabaya to Banyuwangi, Jogjakarta, and then Bali. Besides, there is also a new couple who have a honeymoon. They are trekking to Mount Bromo to see Milky Way. So, there is also Mount Bromo Honeymoon Tour Package that we offer. You can either stay in a hotel or not when you want to see Milky Way since there is Mount Bromo midnight tour. For more detailed information about the package, including the price and services, feel free to contact us.
Mount Bromo milky way
You may also like :
Bromo milkyway tour for fotography 2D1N package tour
Bromo milkyway by camping and ijen blue flame tour 3D2N
Bromo milkyway by camping tour 2D1N 
Bromo midnight tour 1D from surabaya or malang
Bromo and ijen tour in 2D1N from Bali, surabaya or banyuwangi
Bromo sunrise and ijen blue flame tour 3D2N package (most wanted)
bromo and madakaripura waterfall tour in 2D1N
Bromo sunrise, ijen blue flame and madakaripura waterfall tour 4D3N package tour
Bromo sunrise, ijen blue flame and paragliding tour 4D3N
Bromo sunrise ijen blue flame and rafting 3D2N
Bromo Sunrise, ijen blue flame and Sukamade turtle Beach 4D3N
Bromo and semeru hiking tour in 4D3N
Semeru hiking tour in 3D2N
Contact Us
If you have any questions, please contact us.