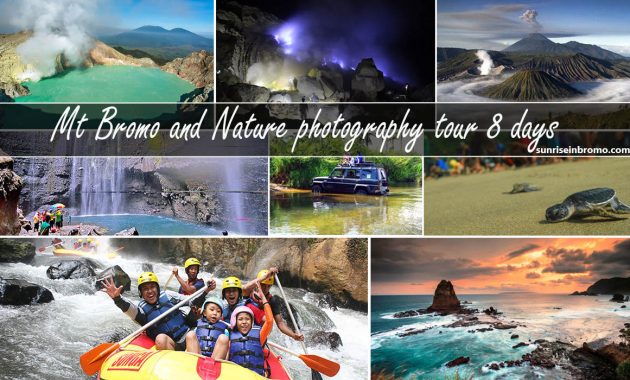 Actually, it is full tour package. It is not only Bromo Tour. You will be taken to natural attractions in Java Island as well. That is why this tour needs 8 days and 7 nights. You will visit a lot incredible natural places that Java Island has like Blue Flame Ijen Crater, Sunrise in Papuma, Sunrise in Bromo, White Water Rafting Package, sunset, and Sukamade Turtle Beach.
Therefore, it is the most recommended tour package that you can take when you are so excited to take pictures of natural attractions in Java. When you like to, we will also can combine it with Milky Way Tour Package. It is most amazing complete tour package that makes your traveling memorable. This tour can be started from Surabaya Airport, Bali, Jogjakarta, Malang City, or Banyuwangi Harbor. The following is more detail information about mt bromo and nature photography tour 8 days package.
Bromo Sunrise, Sunset, Nature Photography Tour Package 8 Days 7 Nights
Day 1 : Surabaya (SUB ) – Hotel around Ijen Crater
You can choose where we have to pick you up, either in Surabaya Airport, Bali, Malang, Jogjakarta, or Banyuwangi. Then, we will take you to Ijen Crater. We will have booked lodge around Ijen Crater for you. Please take a rest for 1 night and enjoy the view there.
Day 2 : Blue Flame Ijen Crater photography – Homestay around Sukamade Beach
We need you to wake up at 12.00 am midnight since we have to go to Ijen Volcano to see Blue Fame. It approximately takes 2 hour driving by car.
02.00 am reach ijen parking lot (paltuding). Then you have to do trekking about one and a half hour. We have to make sure that you arrive at the top of the crater at 03.00 AM. Then, you can go to bottom of the crater. It is the place that you can find Blue Fire Ijen Crater. Enjoy photo activity till 05.00 because at that time we have to go back to the top of the crater. Make sure that you take pictures of Ijen Crater Landscape as well. Then, you have to go to the parking lot in order that we will take you back to your hotel for breakfast. Clean yourself in hotel and you are ready to check out
You have to be in hurry to go to Sukamade Turtle Beach. You will have lunch on the way. When we arrive in Sukamade, you will check in and take a rest for a while.
You will start tour in Sukamade Beach at night since the turtle will show up at 09.00 PM. Therefore, You will have dinner in local restaurant in advance. Then, the local tour guide will accompany trekking along the beach to see turtle. Having enjoyed turtle appearance, you need to return to homestay to sleep.
Day 3 : Sukamade Beach – Hotel in Jember City
When you want to take a picture of turtle hatchery cage, you need to wake up early in the morning. Then, going back to homestay and check out.
Then continue the tour to Papuma. However, You have to stay a night in a hotel in Jember city.
Day 4 : Papuma Sunrise Photography – Hotel Around Mount Bromo
You have to wake up very early, about 03.00 Am. From hotel where you stay it takes about one hour by car. The car will be parked in Papuma Beach parking lot then you need to do trekking to reach the high peak.
You will see a giant rock where you can take a picture of sunrise combined with south waves. Enjoy the natural view of the beach till you feel satisfied. Then, going back to hotel because breakfast has been prepared. 12.00 pm Check out and we are heading to lodge in Mount Bromo about 3 hours driving by car. You need to stay a night there.
Day 5 : Mount Bromo Photography – Waterfall Tour Package – Return to Hotel
Since you have to reach high peak to see sunrise in Mount Bromo, you have to wake up earlier. Traveling to the peak takes about a half hour. So, at least, you have to wake up at 03.00 AM so you can reach the highest peak at 03.30 AM. The jeep 4WD will have been provided to take you to Pananjakan. It is actually the highest or the most incredible spot to enjoy and to take picture of Sunrise. In this place, you also can see Mount Semeru.
When you have finished taking picture of sunrise, you need to return to where the Jeep is parked. You need to go to the Crater and enjoy the Sea of Sand. To reach crater, you can do trekking or ride a horse. It is up to you. When you do trekking, it will take about 30 minutes. Meanwhile, it takes 15 minutes by riding a horse.
Having enjoyed all attractions included in Mount Bromo Photography Package, You need to take you back to hotel to have breakfast and shower. Then, you need to check out 11.00 AM in order that we can directly go to Madakaripura Waterfall. It takes 1 hour by driving a car.
We will take you to the parking lot of the Waterfall. Then, you need to take off your shoes and change with slipper since you have to do trekking for about 30 minutes to reach the Waterfall. You shouldn't worry since the local guide will accompany you.
You can enjoy the Waterfall for about 2 hours there. You can take a picture of that wonderful Waterfall. After that, we want to take you to your hotel around Cemoro Lawang area. In that hotel, you can take a rest and have nice sleep to regain your energy since you have to prepare yourself to see sunset in Bromo.
Day 6 : Mt Bromo Sunrise Photography from Mentigen Hill – Bromo Sunset Photography by Jeep – Hotel Probolinggo
We will wake you up at 4.00 AM. Indeed, you don't want to miss sunrise, right? Therefore, you have to wake up earlier to go to visit Mentigen Hill. There is a car provided which will take you there. It only takes 5 minutes by car. The car will be parked and you continue trekking to reach the point where you can see beautiful view of sunrise. Usually, the sun
rises around 05.20 AM. Then, you can continue enjoy the view or Bromo Crater, Sea of Sand, and Bromo Volcano. Having enjoying the view, you can return to a hotel to have breakfast and go shower. You still have spare time to take a rest in hotel till 03.00 PM.
In the afternoon, exactly at 03.00 PM, we will pick up by Jeep 4WD. We are heading to the highest peak to enjoy sunset. There is a peak where you can to reach it by walking. So, the car needs to be parked in the provided parking lot. You can wait till sun sets around 05.00 till 05.30 PM. After that, you need to take you to the hotel in Probolinggo city. You will stay there for 1 night. The next is White Water Rafting Package.
Day 7 : Water Rafting Tour Package – Hotel Around Surabaya City
Like usual, we need to you wake up in the morning. But it is not too early. You need to have breakfast and have shower. Then, you have to do packing since we have to go to White Water Rafting. It is not quite far away from the hotel. It takes at least 1 hour1 by car.
Having arrived in the Water Rafting parking lot, local tour guide will give some information. Then, you will be taken to Pekalen River. It is the start of rafting. Meanwhile, rafting is about 3 till 4 hours.
When the rafting comes to an end, you need to come back to the base camp. You can change your clothes and you are ready to have lunch in Rafting restaurant. After that, we will drive you to the Lodge at Surabaya City. From the water rafting to Surabaya, it takes about 4 hours by car. Stay a night there to have Surabaya City Tour Package.
Day 8 : Surabaya City Tour – Airport
In the morning, you can wake up, go to shower, and check out. It is time for you to travel around Surabaya City. You can enjoy shopping centre in Surabaya, buying souvenirs, or visiting amazing places around the city.
During midday, we will take you to the airport. It is the end of the tour.
FACILITY INCLUDED IN PACKAGE PRICE :
Private tour driver & AC (air conditioned) car, Fuel and Parking fee by shuttle
Entrance fee for all tourism according the titinerary
7 Night in Hotel and Breakfast
1 Night in Homestay and Breakfast Sukamade Turtle Beach
2 X Private Jeep 4 WD for Bromo Sunrise, Sunset Tour
Sukamade Tour facility (1 private jeep for crossing the river, local tour guide for turtle enjoying, dinner, breakfast)
Songa Rafting Tour facilities (Local tour Guide, Rafting boat, rubber pack to keep Camera, helmet, paddles, float jacket, lunch in base camp, Lunch in Base Camp and welcome drink)
Local guide and motorbike transport for Madakaripura Waterfall trekking
Local Guide and gas mask for Blue Flame ijen Crater trekking
daily Mineral water
Surabaya City tour
EXCLUDED :
Horse transportation in Mt Bromo
Personal expense
Lunch and dinner
When you want to see popular natural attraction in East Java, it is right choice if you take this tour package. However, you have to make sure that you book the package first. At least, you inform us 1 or 2 months before so we can do preparation to welcome you with the best services. For more information about all tour package we provide, feel free to contact us.
Mount Bromo and Nature Photography Tour 8 Days
You may also like :
Bromo sunset for photography tour
Enjoy the milkyway or stargazing in mount bromo
Bromo milkyway tour for fotography 2D1N package tour
Bromo milkyway by camping and ijen blue flame tour 3D2N
Bromo milkyway by camping tour 2D1N 
Bromo midnight tour 1D from surabaya or malang
Bromo and ijen tour in 2D1N from Bali, surabaya or banyuwangi
Bromo sunrise and ijen blue flame tour 3D2N package (most wanted)
Bromo sunrise and coban sewu waterfall 3D2N package
Bromo malang tour 3D2N 
bromo and madakaripura waterfall tour in 2D1N
Bromo sunrise, ijen blue flame and madakaripura waterfall tour 4D3N package tour
Bromo sunrise, ijen blue flame and paragliding tour 4D3N
Bromo sunrise ijen blue flame and rafting 3D2N
Bromo Sunrise, ijen blue flame and Sukamade turtle Beach 4D3N
Bromo and semeru hiking tour in 4D3N
Semeru hiking tour in 3D2N
Semeru trekking tour in 4D3N
Contact Us
If you have any questions, please contact us.