If you really want to travel around East Java, especially in Malang and Mt. Bromo, it is strongly recommended that you choose Mount Bromo ijen and Malang city Tour Package 6 Days. This is a package that has been designed to make sure you are able to visit many different tourism objects without any regret. It takes quite long time to visit those different places since they are apart each other.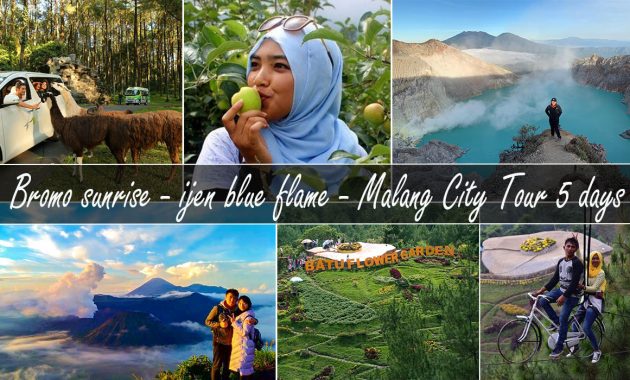 Meanwhile, if you choose Ijen Crater as the main destination to visit, just take this 5 days tour package in Ijen Crater bromo and malang batu city. What will you get by choosing this package? Here they are.
itinerary of Mount Bromo Ijen and Malang city tour 6 days 5 nights package
Day 1: picking up at airport – Hotel around Ijen area
Usually, we pick your guests at Surabaya Airport. It is suggested that you can arrive at Surabaya Airport at noon. Therefore, you will still have time to take a rest for a while in hotel. We will pick you up by a private car with AC (air conditioned). From the airport to the hotel near Ijen Crater, it takes about 4 hours. When you arrive at hotel, just take a rest since we need you to wake up at midnight
Day 2: Trekking to See Ijen Blue Flame – Hotel around Bromo area
At 00.00 midnight, we need you to prepare yourself since we will go climbing to Ijen Volcano rim. From hotel, we will take you to Paltuding. It is a place where the car is parked. It is approximately 2 hours driving car. When we have arrived at the parking lot, you have to go trekking about 2 hours more. You shouldn't worry since you will be accompanied by a local guide.
Having been in the top of Ijen Crater, you will see smoke of surfuric crater. There are local people mining the sulfur from below of crater. Hopefully you can arrive at crater rim earlier. Therefore, you are able to see Blue Flame Ijen Crater.
You have enough time to enjoy the view at the top of Ijen Crater. Then, we go back to the parking lot in Paltuding since we have to take you to the hotel to have breakfast. You might take shower and take a rest for a while till 12.00. Check out and continue our tour to Mt. Bromo.
You can sleep during the traveling since it takes about 3 hours to reach lodge near Mt. Bromo. Since we check out from the hotel at noon, we will arrive in the lodge in the afternoon. Check in and have rest.
Day 3: Mt. Bromo Tour – Safari Park II Prigen – Hotel around Malang Batu
Like in the previous day, we need you to wake up early morning, exactly at 02.30. You don't want to miss sunrise, do you? We prepare a private jeep for you. We will take you to Mt. Pananjakan (Highest peak to see sunrise in Mt. Bromo).
Based on our schedule, you will be able to arrive at the spot at 04.00 in the morning. Just wait for a moment. Sun usually rises at 05.20. From the above, you will not only enjoy sunrise but beautiful view of Sea Sand, Mt. Bromo. Mt. Batok, Mt Semeru, and of course incredible natural view.
At 06.30, we return to the parking lot. We will drive you to Sea of Sand. Then, we will continue to go trekking to Mt. Bromo to see the crater. Prepare your energy since the trekking takes about 30 minutes. If you think that you are not able to make it, you can ride horse.
We will let you enjoy the crater. If you think that it is enough, we will take you back to the hotel. You can have breakfast, take shower, and relax for a while.
At 11.00, you need to check out and we will continue out tour to Safari Park Prigen. You don't want to miss the opportunity to visit the second largest safari park in Asia, do you? It is not quite far away from the hotel. It is only about 1-2 hours by car.
Having finished visiting this park, we will head to Malang City and check in there.
Day 4: Apple Plantation – Batu flower garaden and museum transportation ( museum angkut)
You will have breakfast at 07.00. Then, prepare yourself to go to Apple Plantation. Overthere, you can pick the apple by yourself. you can eat as much as you can on the plantation. However, it is not for free if you take away. You have to buy the apple you pick by yourself. Then, we will continue out tour to Batu flower Garden. There are some beautiful natural views. You can just enjoy the view or trying flying ciycle with your couple. when you are finish we will take you to the restaurant for Lunch.
At 03.00 PM continue the tour to Museum transportation called Museum Angkut. The museum has more than 300 collections of types of traditional to modern transportation. The museum is divided into several zones decorated with the background of building models from the continents of Asia, Europe to America. when finish we will take you for dinner before back to the hotel.
Day 5: Visiting  – Omah Kayu (TreeHouse) – paragliding – Jodipan colorfull village 
In the morning, breakfast is prepared for you at 08.00.
At 9 o'clock, we will drive you to Omah Kayu. It is called Omah Kayu or treeHouse since all houses are made of wood. It is situated in Mt. Panderman. Since it is located in the top of mount, you will not only enjoy the Omah Kayu but also beautiful scenery. It seems that you are in the middle of giant mountains.
Having enjoyed Omah Kayu, when finish now we take you see the people playing paragliding, you can try to paragliding in tandem if you want. you will see the view of the city from the sky.
At afternoon, we will go to Jodipan colorfull Village around Malang city. Jodipan colorfull village becomes the last activity to do before we drive you to hotel at Surabaya city and chek-in
Day 6 : Hotel Surabaya – House of sampoerna – Surabaya Airport
breakfast at 08.00 and checkout from hotel. before to surabaya aiarport you can visit House of sampoerna. House of Sampoerna is a Dutch colonial-style heritage building complex built in 1862 and located in the "Old Surabaya" area. were used for tobacco and cloves processing inclusive of blending, rolling, packing, printing up to become finished goods. when done continue to surabaya airport and its takes 40 minutes drive.
End of the tour.
So, when do you plan to have vacation in bromo ijen and Malang? Contact us and take this 6-Days Ijen Crater, Mt. Bromo, and Malang Tour Package.
Facilities you will get :
English speaking driver
Transportation with AC, Fuel and parking fee
5 nights accommodation
5x breakfast
Entrance ticket
Daily Mineral water
jeep 4WD for bromo sunrise tour
local guide and gas mask for ijen blue flame tour
exclude :
Lunch and dinner
paragliding
personal travel insurance
What to prepare for the tour
If you want to take this 5-Days Ijen Crater, Mt. Bromo, and Malang Tour Package, make sure that jacket, trekking shoes, and some other equipment are with you. You have to know that Ijen Crater and Mt. Bromo has extreme temperature. You really need thick jacket.
6-Days mount Bromo ijen crater and Malang Tour Package
You may also like :
Mt Bromo ijen blue flame and tumpak sewu waterfall tour 4D3N package
Bromo sunrise, ijen blue flame and madakaripura waterfall tour 4D3N package tour
Mt Bromo and madakaripura waterfall tour in 2D1N
Bromo midnight tour 1D from surabaya or malang
Bromo and ijen tour in 2D1N from Bali, surabaya or banyuwangi
Bromo milkyway by camping and ijen blue flame tour 3D2N (most wanted)
Bromo sunrise and ijen blue flame tour 3D2N package (most wanted)
Bromo milkyway by camping tour 2D1N
Bromo milkyway tour for fotography 2D1N package tour
bromo and madakaripura waterfall tour in 2D1N
Bromo sunrise and coban sewu waterfall 3D2N package
Bromo sunrise, ijen blue flame and paragliding tour 4D3N
Bromo sunrise ijen blue flame and rafting 3D2N
Bromo and Papuma beach tour 3 days 2 nights
Bromo Sunrise, ijen blue flame and Sukamade turtle Beach 4D3N
Semeru hiking tour in 3D2N
Bromo and semeru hiking tour in 4D3N
Bromo milkyway by camping and ijen 3D2N
Contact Us
If you have any questions, please contact us.