Do you have a plan to have unforgettable moment before wedding? We offer Mt Bromo PreWedding Package under Milky Way. By taking this package, you will have this moment truly memorable. It will be a sign that wedding is once in a lifetime which has to be celebrated in different way.
Surly, you don't mind to spend quite a lot of money to make it really memorable. You don't mind to spend money for decoration and for pre-wedding photo as well. The photos will be stunning. They will grab guests' attention in the weeding since you and your couple are hiking to the Mt. Bromo under Milky Way. It will be so romantic. Imagine that your photo with your couple look great since the background is the Milky Way. Can you imagine that?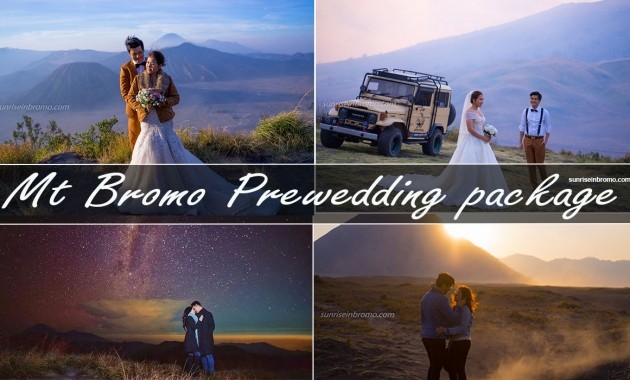 Mt Bromo PreWedding Package under Milky Way
We have 3 Day 2 Night Pre-Wedding Package in Mt. Bromo. We know the best places to take a picture. The nature always becomes the marvelous background for pre-wedding photos. We will take you to the best spot for taking pre-wedding pictures like Savanna Green Hill, Bromo Love Hill, Whispering Sand or what we call Sea of Sand, and also Caldera Bromo Village View. Since so many spots that you can choose, it takes several days.
Let's discuss about it. Tell us what you have in mind. Therefore, we are able to make it happen.
In this case, we have prepared anything for you in order to that you can have the best pre-wedding shot ever. Here is the itinerary:
Day 1: We will pick you up in Surabaya
Just wait in the Surabaya Airport. We will pick you up there. It takes 3 till 4 hours driving to the Cemoro Lawang. It is the nearest village to Mt. Bromo. It takes time. So, if you want to, we will have a lunch on the way. After arriving in the Cemoro Lawang Village, it is time for you take a rest for a while. You can check in and enjoy free program.
Day 2: Taking Pre-Wedding Photos at Mt. Bromo
Prepare yourself at morning since you have to breakfast and leave the hotel. We will have provided 4 WD jeep. It is a vehicle taking you to Savana Hill. It becomes the first spot that you will have photo shot. The next place is the Sea of Sand. Then, we take you to your hotel to have lunch in the hotel restaurant. It is a sign that the first photo session is done.
You can take a rest or possibly take a nap for a while. The second photo session will be at 4 pm. Mentigen Hill is the first spot for this second session. Bromo with sunset will be the background of this photo shot. When it finishes, we take you back to the hotel to have dinner.
Then, the time that you are waiting for is coming. It is time in which we will have a photo session in Milky Way. However, we need to take you to the top of Mt. Bromo. In this case, you have to prepare yourself and your energy. Indeed, we have to do this photo shot at night. And this third photo season ends.
Day 3: Have A Playful Sunrise Tour
We have to make sure that you sleep tight after taking pre-wedding photo under Milky Way since we need you to wake up at 2.30. We have to catch sunrise at 5.00. We plan to make you leave the hotel at 3.00 in order that we can reach at Penanjakan during sunrise. In that spot, you will be a witness of beautiful sunrise with Mt. Batok and Mt. Bromo as the background. However, you don't have to spend your time to enjoy the view since the photographer has to do his or her job. After taking some pictures, we will be back to the jeep and we are back to hotel.
You must be so tired so take your time to relax while enjoying breakfast. After that, you can return to your room to take shower and packing. You need to check out at 11.00. Let's take you to the Airport. It is all of our services when you take Pre-Weeding package under Milky Way at Mt. Bromo.
Facilities include:
Private transportation
2 night hotel accommodation
2x breakfast and Lunch
Bromo's entrance ticket and permit for pre-wedding photo session
A professional photographer
Make up artist
4 WD Jeep
Riding horse in Bromo
Mineral water during tour
Exclude:
Dress and outfit
Personal expenses
lunch and dinner
Click here for price info and booking
You may also like :
Mt Bromo sunset for photography tour
Enjoy the milkyway or stargazing in mount bromo
Mt Bromo milkyway tour for fotography 2D1N package tour
Mt Bromo milkyway by camping and ijen blue flame tour 3D2N
Mt Bromo milkyway by camping tour 2D1N 
Mt Bromo midnight tour 1D from surabaya or malang
Mt Bromo and ijen tour in 2D1N from Bali, surabaya or banyuwangi
Mt Bromo ijen tour 3 Days 2 Nights package
Mt Bromo coban sewu waterfall 3D2N package
Mt Bromo malang tour 3D2N
Mt Bromo and madakaripura waterfall tour in 2D1N
Mt Bromo ijen blue flame madakaripura waterfall tour 4D3N package tour
Mt bromo ijen and tumpak sewu waterfall 4D3N
Mt Bromo ijen blue flame paragliding tour 4D3N
Mt Bromo ijen blue flame rafting 3D2N
Mt Bromo ijen blue flame and Sukamade turtle Beach 4D3N
Mt Bromo and semeru hiking tour in 4D3N
Mt Semeru hiking tour in 3D2N
Mt Semeru trekking tour 4 days 3 nights
sunriseinbromo.com is a tourism travel agency in East Java Indonesia that provides mount bromo tour package, mount semeru trekking, ijen blue flame tour, rafting, snorkeling, paragliding and malang batu city tour.
Contact Us
If you have any questions, please contact us.