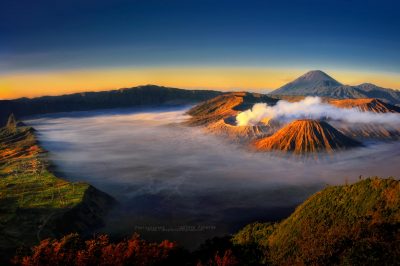 Mt Bromo sunrise tour package | Mount Bromo and the beauty of the sunrise in the mountains are decorated vast sea of sand shaped caldera always amazed tourists both domestic and international tourists. Mountain areas are included in Bromo Tengger Semeru National Park This creates incredible views to be enjoyed.  It makes Mount Bromo most famous sights in East Java.
the very best places to take pleasure in
Mount Bromo Sunrise tour package
is from Penanjakan hill, kingkong hill, mentigen hill and seruni point. They choose
Bromo Tour Package
to enjoy the wonderful view from various peak and sides. Usually there are some interested places around Mt Bromo that become the most place for photographers to get
Bromo Milky Way
, Sunrise along with other views. You need to stay inside the nearest hotels or homestay from Mt Bromo and to get prepared in early morning to find the very best spot.
Mount bromo sunrise tour package
The temperature of mt bromo is 15-20 degrees during the day and 05-10 degrees Celsius at night, it makes visitors feel comfortable. It has 2,329 meters above sea level and is surrounded by a vast desert that looked like the Pyramids of Giza where travelers can enjoy the surrounding desert by horse or by foot, the volcano is surrounded by 5250 hectares Sand Sea and high mountain, Mount Bromo is not the highest peaks of the other volcanoes in Indonesia, but the most famous. It is very popular because it consists of steep uplands and hills up to be the best place to enjoy
Mount Bromo Sunrise Tour
.
Myth has it that Mount Bromo is significant to the Tengger people that believe the site is how their brave prince sacrificed his life for their family. To appease the Gods, the folks will offer food and money by throwing it straight into the crater from the volcano once a year during annual Kasada (or Kasodo ) festival.
According on huge visitors that never saturated admiring the beauty of Sunrise and view at Mt Bromo National Park, They are not just looking to get the best places for sunrise photography, but additionally admiring the beauty of Mt Bromo Sunset. They spend their vacation as their purpose before. A few of them enjoy honeymoon tour with the lovers, a few of them attempting to find the very best peak to bring picture for Milky-Way, When the visitors have restrict time for them to visit other touris object in Indonesia, they usually only taking
Mount Bromo Midnight
tour without stay inside the hotel.
Where is it
Bromo Volcano is settled between Probolinggo, Malang, Pasuruan and Lumajang City, Most domestics and foreign tourists visit this Mount from Surabaya, Malang, Banyuwangi and Bali Island. A few of them from Yogjakarta. The nearest way is from Surabaya and Malang city. You are able to start from Surabaya Airport, Train station or from the hotel
How you can get there
Fly into Juanda international airport at Surabaya. There will be direct flights from Singapore, Kuala Lumpur, Hong Kong, Jakarta and Bali. If you're flying domestic from Jakarta, you'll take Sriwijaya that flies twice weekly.
Distance from Surabaya airport towards the Mount Bromo national park is about 120km and also the time it will take is about 4 hours because of heavy traffic and congestion. On the way in which, you'd pass Probolinggo town which lies in the major highway across java. Here is how most backpackers would usually share a transport to bring them as much as the Bromo Tengger Semeru National park. Or get an entire overnight bromo sunrise tour from Surabaya to Mt. Bromo and back.
Things to do
Mount Bromo Jeep 4 WD is possibly the most suggested transportation since the Sunrise photography from highest peak (view point ) only able from the Jeep, you could find it in rental jeep centre around Cemoro Lawang.
You need to get up at 02. 30 AM then start visiting at 03. 00 AM coming from the nearby hotel, In case youstay at more far hotel, you need to start at 02. 00 AM by Private Jeep rental.
For photographer visitors who like photograph for
Mount Bromo Milky Way 
and Sunrise very recommended to started from nearby hotel at 00. 00 – 01. 00 AM by Private Jeep 4 WD.
Places to stay
You'll find various guesthouses and basic hotels located around Mount Bromo, as that place is popular for tourists. Try to remain nearby so that you could conduct the morning hike as much as catch the sunrise easily. Many guesthouses or hotels are situated in the crater rim. If you favor even more of a hotel, a preferred one here is Jiwa Jiwa Bromo, lava view lodge, bromo Permai hotel, cafe lava hotel, Cemara indah hotel, yoschi hotel, Bromo park hotel and grand bromo whiz hotel
Where to reach nearby
Ijen crater – 6 hours drive away. Magnificent turquoise sulphur lake that exudes flames, blue fire through the night and smoky white inside the day (
Bromo ijen blue flame tour
)
Malang and batu city – Cultural capital of East Java
Tips
Bring a jacket and gloves as it might get chilly up there. Inside a pinch, you are able to rent a jacket and purchase a glove.
Mount Bromo sunrise tour package option
Mt Bromo midnight tour 1D from surabaya or malang
Mt Bromo and madakaripura waterfall tour in 2D1N
Mt Bromo milkyway tour for fotography 2D1N package tour
Mt Bromo milkyway by camping tour 2D1N
Mt Bromo sunrise and coban sewu waterfall 3D2N package (most wanted)
Mt Bromo sunrise and ijen blue flame tour 3D2N package (most wanted)
Mt Bromo sunrise, ijen blue flame and madakaripura waterfall tour 4D3N package tour (most wanted)
Contact Us
If you have any questions, please contact us.