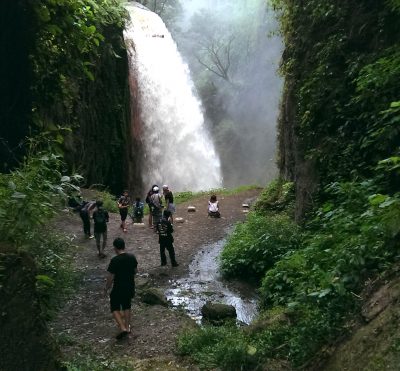 Blawan waterfall has been a famous destination object in Banyuwangi, East Java. Exactly, you can visit this tourism object which is located in Kalianyar Village, Sempol District, Bondowoso. In fact, it is downstream of Bitter River. It becomes seepage coming from Ijen Crater. Therefore, you will smell sulphur from the water since actually Blawan Waterfall is surrounded dense Makademia vegetation.
Blawan Waterfall From Ijen Crater in Bondowoso
Many tourists consider Blawan Waterfall like Niagara Falls in the United States. It is based on the flow of the waterfall. The water flows into Asembagus Situbondo. is not only the waterfall which is so amazing. In fact, you will feel such a challenge during traveling to this wIt aterfall. You have to pass up and down stars which are located in between two 30 meters-yellow cliffs. What make them has yellow color is due to sulphur content. The sulphur is coming from Ijen Crater.
Due to the water falls, it sounds so buzzing in the ears. However, it looks wonderful since you will see fertile greenery growing over there. You should not forget to spend the time enjoying natural hot springs containing sulphur. By soaking your body there, tiredness because of having long trekking will be gone. Moreover, it is believed that this natural hot spring is able to cure any pains.
It is strongly recommended that you book the homestay near Blawan Waterfall. There are a lot of options like Catimor Homestay and Arabica Homestay which are relatively near Blawan Waterfall. Try to book Catimor Homestay since you only need to take trekking about 10 minutes from homestay to Blawan Waterfall. When you have already arrived at the entrance, you can continue trekking and go upstairs for about 5 minutes. Then you will find downstairs. Not so long, you will get into the location. The waterfall is on your right side.
After visiting Blawan Waterfall, it is suggested that you spare your time to see Teluk Hijau Beach. It is also called Green Bay Banyuwangi. In fact, there are still other attractions like Kalibendo Waterfall, Baluran National Park, Plengkung Surfing Beach, Rajeg Wesi Beach, Sukamadi, Watu Dodol, and many others. Please pay attention to the following information if you really want to enjoy all natural tourism objects in East Java, Indonesia.
Do you have a plan to take Bromo Tour Package and Ijen Crater Tour Package? Please contact us for price. We have provided the best accommodations and facilities in order to make sure that you have the best experience having holiday in East Java. You should inform us one months before so we can do some preparations.
Contact Us
If you have any questions, please contact us.