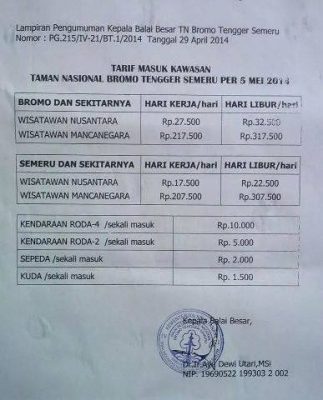 It is important for you to know that the price for Mount Bromo entrance ticket might change. It depends on when you come to visit Bromo. Sometimes, the price is so expensive. Mostly, it happens during holiday, weekday, and weekend. But, sometimes you don't have to spend much money to pay the entrance ticket.
Compared to other tourism objects in Java Island, Indonesia, Mount Bromo is regarded as the most valuable tourism object. It is the first class attraction in Java because of its different beautiful peaks to visit like sunrise, sunset, and of course Milky Way appearance. That becomes the reason why Mount Bromo entrance ticket price is high. Even, the other facilities are also expensive like jeep rental, hotel, and many others.
Bromo entrance ticket price information
Amazing Views You Can Enjoy in Mount Bromo
This mount is situated in Ngadisari Village, Probolinggo City, East Java. Most of local people follow Hindu religion. They have "The Yadnya Kasada Mount Bromo". It is a special day in which they celebrate it every year between July till August. This mount height is about 2,329 meters. It stands between Volcanic Crater and Sea of Sand.
People all over the world know Mount Bromo when there is wonderful sunrise photography taken from from different spot like Pananjakan, Seruni Point, Love Hill, and many other spots. For the times being, much more people like to take Mount Bromo Sunrise Tour to make sure that sunrise from Mount Bromo is as beautiful as what they see in the photo. They can be the witness by themselves by reaching up to some spots and they can go there by jeep 4WD. However, some of them choose trekking in order that they can enjoy beautiful view along the journey to the peak.
Besides sunrise, you can also enjoy the view of Crater. There is always huge sulphuric smoke all time. In 2010 – 2011, there was big eruption. According to history, it was the last time Mount Bromo erupted. In 2012, the eruption is getting stable then visitor might come to visit this tourism object again. Beside crater, you also need to visit Savanna Hill. It is a massive green grassland which is surrounded by high mountains. Whispering sand is another spot that you have to visit as well. It is massive sand in black colour. Just like Savanna Hill, this sand is also surrounded by high mountains. People name it Whispering since it produces a voice when the wind blows.
Even though the price of entrance ticket is so expensive, it doesn't make tourists stop visiting this National Park. Even, much more tourists are coming. It is due to the fact that they will be able to have such a memorable holiday when they come to Mount Bromo.
Difference Entrance Price for Mount Bromo
A. Domestic Tourist
Usual day or weekday : IDR 27,500
Weekend and holiday : IDR 32,500
B. Foreign Tourist
Usual day of weekday : IDR 220,000
Weekend and holiday : IDR 320,000
For Kitas (temporary ID), have not valid in Mount Bromo.
Attention
Make sure that mountain clothes are with you such as jacket, gloves, long pants, raincoat, hat, trekking shows, and also Mount Mask. They have to be well prepared before starting vacation. Those clothes must be taken since the temperature in Mount Bromo peak is low, between 5 till 10 degree centigrade.
It is better for you to take Bromo Tour Package. Feel free to contact us to ask about anything related to the package like price, service, and facilities. You need to book 1 or 2 months before. So, we have spare time to do preparation for your vacation in Mount Bromo.
Mount Bromo entrance ticket fee
Bromo midnight tour 1D from surabaya or malang
Bromo sunrise, ijen blue flame and madakaripura waterfall tour 4D3N package tour
Bromo milkyway tour for fotography 2D1N package tour
Bromo sunrise and ijen blue flame tour 3D2N package (most wanted)
Contact Us
If you have any questions, please contact us.